If you are convinced of the power of flashcards to boost your French vocabulary, or at least curious enough to give it a try, there are a lot of apps to choose from.
While I grew to prefer Brainscape, Anki is well-known for the quality of its algorithm. But it's definitely not the most intuitive app and it requires practice to harness its full potential. Hence this tutorial which is by no means exhaustive.
I intentionally keep it simple because I believe creating / sorting / editing flashcards should not take up much of your time. What counts is spending time reviewing the material, to maximize exposure through repetition and integrate these items to your real life.
My intent is to stick to the basics so that you can start using Anki and improve your French as quickly and easily as possible.
After downloading the app and opening it, you have to create your first deck and choose a name for it (you can always change it later).
Should you create several decks or stick to one? Keep in mind that your study sessions will be organized by deck so you will have to select a deck to study every time.
The lazy (smart?) way: the one and only
Pros: simplicity, absence of choice on what to study (no decision fatigue)
Cons: no hierarchy, lack of time to review all due cards in a single study session
The structured way: several decks
You can categorize them however you like, for example:
- by source (class, newspaper, book, podcast, series…)
- by tenses or grammar points (past tenses, future tenses, pronouns…)
- by situation (restaurant, talking about myself…)
…
Pros: everything is organized, you can choose specifically which deck to study.
Cons: overlaps, need to refine the system, artificiality of putting the language into boxes.
Ultimately it depends if you have set priorities in terms of the content you're learning or if you don't mind improving in a more organic way.
Note: Decks are not the only way to organize content, you can also create tags (see more on tags below)
I will focus on 2 modes : basic and cloze.
For basic mode, you just have to fill in the front and back card. You can click one of the icons on the top to add an image or an audio file, and even record yourself (or a kind native speaker).
Remember to use your native language for the front and French for the back. Your aim is to be able to produce French, not merely recognize it. And as much as possible, avoid words in isolation. Choose groups of words or sentences that you can use in your daily life.
You can add a tag which will allow you to find the card later (using the browse section) or even to study a group of tagged cards.
Select Type: Cloze on the top left of the card. Write down your sentence in French. Select the part that you want to learn and tap the […] button.
Add on the same side (on a new line) the English translation of the selected part or a translation of the full sentence. When you will test yourself, you will see the selected part being hidden and then appear in blue in the sentence.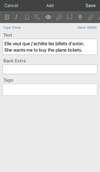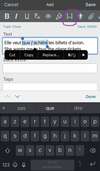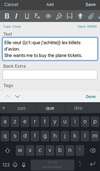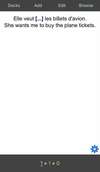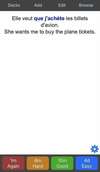 Using cloze mode is very convenient when the sentence is not literally translatable, or when the structure is too different. Don't overthink it. We learn by editing cards and their quality and effectiveness improve with time.
Once your first flashcards are made, take a minute to create an account on Anki web so you can sync all your content and have a backup should anything happen to your phone or computer.
(From the flashcard) Settings (low right) / Scroll down to All Actions category / Delete note
Move a flashcard to another deck
Browse / Filter / Select the deck / Select the card / Actions / Change Deck
(You need to be inside a deck) Settings / Custom study / Review new cards with a certain tag
Prioritize the study of new flashcards
(From home screen) Settings / Review / Scheduling / New/Review order
Enjoy the flashcards adventure !